The Sims 2 is a game in
The Sims Series
. It follows the same goals as the original Sims game, but it is further improved.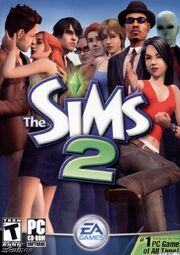 The game remains the same but is more realistic. You are no longer forced to only make children and adults. Now, the following sims are available: Baby, toddler, child, teen, adult and elder. You can have young adults if you buy an expansion pack. Also, sims are no longer stuck in the same age forever; they now grow up! 3 days after a baby is born, it becomes a toddler, The toddler eventually becomes a child, the child a teen, etc.
Also, you can leave your house more in The Sims 2. Each town has lots you can explore and more are added if you get an expansion pack.
You can also make your own town if you get bored of the ones EA gives you. You can build it from scratch or import a town from SimCity 4. The Sims 2 is the only Sims game where you can do this.
The Sims 2 is also the best reviewed and most well-liked by fans and critics, so if you're torn between Sims 1, 2, 3 or 4 Sims 2 is probably the way to go!
Expansion Packs
Edit
The Sims 2 includes the following expansion packs:
University- your sim can become a young adult and attend college
Nightlife- your sim can date and go downtown to have fun
Open for Business- you can now own a business and get a new robot servant: The Servo.
Pets: Your sim can buy a dog or cat.
Seasons: Your sim can have year-round fun... or torture ;)
FreeTime: your sim has fun new hobbies to explore
Apartment Life: Your sim can rent an aprtment and possibly become a supernatural creature.
Stuff Packs
Edit
The Sims 2 introduces stuff packs, which let you buy new things for your sims and accesorize them more.
Family Fun: new stuff for kids and families
Glamour Life: new glamorous things for mature sims
Happy Holiday: Christmas and New Year's themed items for sims
Teen Style: new stuff for teens
IKEA home stuff: New furniture from IKEA
H&M fashion: New clothes from H&M
Kitchen and Bathroom: Chic new designs for kitches and bathrooms
Mansion and Garden: Cute new clothes furniture and exterior objects for the ultimate mansion and garden.
Community content is available under
CC-BY-SA
unless otherwise noted.