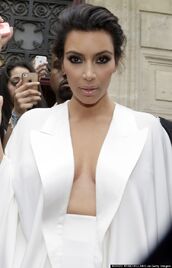 Kim Kardashian
is the main antagonist of 1997's video game
Kim Kardashian: Hollywood
, released exclusively for the Nintendo 64 and PlayStation 4. Inititally a heronine, Kim Karasharians evilness is exposed when she morphs into BETA-Kim Kardashian, and she kills all of humanity!!! Luckily protagonist Kholy is able to defeat Kim Karashian's army of evil and defeat the source of the evil once and for all!
Backstory
Edit
Kim Kardashian was happy once! Then she married Kanye West. On her wedding day, he told her that Jay-Z and Beyonce had one of the BEST weddings of all time. Left distraught and hurt, Kim Kardashian killed Kanye but stapping him in the chest with an egoraptor! Thus, Kim Kardashian killed Kanye! It was from that day on that Kim Kadadaraishna vowed to DESTOYED THE WORLED!!!!!!!!11111111
Finale Batlle!!!
Edit
(Sorry if i'm spelling worse than before I am tired!!!)
Khole uses her magical powers and KIM DIES!!! The game ends after Kim's death because Kim is dead.